A GRAPHIC video clip of a former Singaporean air stewardess and part-time actress having sex with a man has been circulating online.
The four-minute clip, which focused nearly entirely on the woman in explicit poses performing sex acts, is the latest in a growing and dangerous trend among young adults who take compromising pictures of themselves or let others do so.
But unlike the other clips that have surfaced online of relatively unknown local victims, the woman in this video is a celebrity of sorts.
The New Paper believes she is a part-time actress who has appeared in television dramas on the local Malay TV channel Suria.
The video looks to be taken by the man.
It also appears to have been taken with the actress' knowledge, as she is the focus of the video throughout.
The woman in her 20s, a former air stewardess, did not want to say much about the video when contacted by The New Paper yesterday.
When asked if she was the person in the video, she simply said it was "personal info" she did not wish to divulge.
When asked if she was upset by the video, she replied: "If you were in the video, would you not be upset?"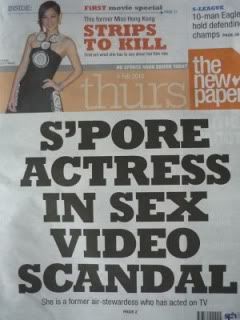 A hotline caller who claimed she was a friend of the woman in the video said that the clip surfaced in the last two days on a US-based media-sharing site that also included two still photographs of the woman in a bikini posing with friends.
The site allows users to create, share and discuss blogs, photos, videos and music with others.
The video of the woman was taken down by yesterday evening.
According to support staff from the site, the account of the woman was created on Tuesday and cancelled by the creator earlier yesterday.
The support staff have also said that "if this was an illegal act and the authorities contact us with a subpoena, we will provide whatever information we can".
This same clip of the woman and two others that showed her naked also appeared on a site popular with Malay artistes in the region.
Those too were removed within a day.
The friend of the woman said that the woman was "very upset" when bikini pictures of her appeared last year, but these videos were "shocking" in comparison.
The woman acted in several drama series.
The New Paper understands that the woman is no longer on contract with MediaCorp.
Those familiar with the woman's TV appearances were "shocked and disgusted" by the video.
Mr Muhammad, a driver in his 30s, said that he found the link to the woman's video through a Facebook friend's profile and watched the video yesterday morning.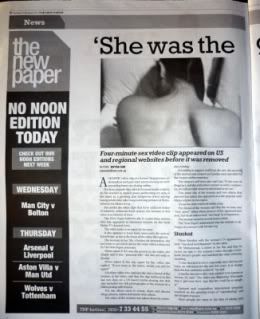 "I was shocked to see it, especially since she has not been on television for the last few years. It is strange that this has suddenly surfaced," he said.
A media executive who only wanted to be known as Serena, 31, said: "The video was disgusting. Who knew that a 'girl-next-door' type like her could be so naughty."
Lawyers and counsellors interviewed yesterday touched on the growing trend of "camwhoring" and the dangers it poses.
More people are open to the idea of taking such pictures these days, while the Internet and the wide range of gadgets with cameras make it that much easier to film, and distribute the images.
According to entertainment lawyer Samuel Seow from Samuel Seow Law Corporation, it is an offence to make such videos.
Said Mr Seow: "They ought to know that such content is considered obscene. As long as you are the one filming it, you are the maker of the obscene content."
According to Section 29 of the Films Act, an offender can be fined between $20,000 and $40,000, or jailed for up to two years, or both, if found "making" or "reproducing" obscene films.
It is also an offence to possess obscene video clips or pornographic material. Those caught can be fined $1,000 per film, up to a maximum of $40,000.
In the case of a woman who is a willing party in the clip, Mr Seow said she "she cannot claim that someone has infringed her privacy".
However, because the reputation of the woman is reduced through the dissemination of this private video, it can constitute "defamation" of the woman and she can try to file a defamation claim against the person who leaked it.
The Straits Times reported in July last year that counsellors say there is an increase in people who indulge in "camwhoring".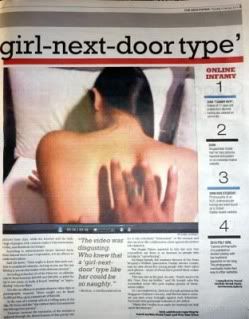 Mr Mani Joseph, the assistant director of the Asian Women's Welfare Association Family Service Centre, said he sees about five young people who have taken such photos – some of whom have posted them online – each day.
This was rare in the past, he said. "Youth used to be shy. Now, they are bolder," said Mr Joseph, who has counselled some who post topless photos of themselves online.
Dr Carol Balhetchet, director of youth services at the Singapore Children's Society, said she has had to counsel one teen every fortnight against such behaviour. Such acts were previously unheard of, she added.
"Many don't realise how easily the material can leak out to the Internet."
Article above is from The New Paper, 4th Feb 2010
What Abang Long think about it?
Singapore is getting exciting in these few days. Recently, a Republic Poly student having her topless photo exposed, now an ex-actress having her sex video exposed. She is Nadia Fazlini Sharip, or better known as Shahnaz in 'Anak Metropolitan'.
Abang Long think it's a well planned move by the "hacker" or whoever posted this video online.
Think about this.
Who could be the one posting the video in the first place? Is it Nadia's ex boyfriend? The friend who post the video in her facebook account? A very smart hacker?
The Ex-Boyfriend
He is the one who took the video so he is the one who have access to it.
The Friend
Why would she want to waste her time uploading that 4min video on to facebook account when she is currently seven months pregnant and busy with her other two children?
The Smart Hacker
This is what I could think of yesterday. The hacker got access to the video which he could have found it in the internet, posted by the Ex-Boyfriend. To make use of the power of social media, the Hacker go through Nadia's friend list. Maybe the Hacker chose a few of friends then the process start. Hacking. So the Hacker managed to hack into one of Nadia's friend, which happened to be another part-time Suria actress. Bingo! Video Uploaded! World Wide Web knows!
I couldn't think of any other possibility. Maybe you can share with me below with your comment.
Or maybe The Smart Hacker is The Ex-Boyfriend himself.
So please people.
1) Don't video-taped yourself having sex. Have sex, have sex lah! Don't have to video-taped it.
2) Please choose an appropriate password. Not password123, qwerty, iloveyou, asdfg, 123456. Choose a more complicated password please to avoid unnecessary things happening. Abang Long old e-mail have been hacked before and I don't want myself or you to have the same problem.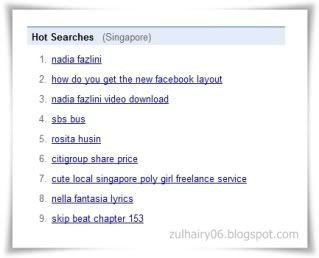 Looking at the trend, it won't be stopping for quite some time yet. Just look at the Singapore Google Trend on your right. That is what Singaporeans have been searching for the past 24 hours. All in the Top 9, 3 of them are related to this scandal. Nadia Fazlini, Nadia Fazlini Video Download and Rosita Hussin.
Wow! Singaporeans are so eager to know who is this Singaporean actress? I myself don't recognize her name until I saw her photo. That's where I go "Oh no!" Me too didn't expect something like this to happen to her.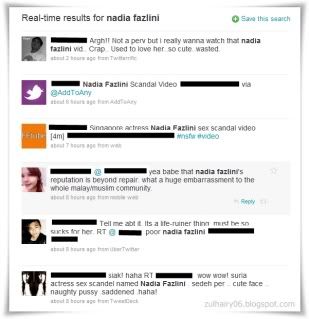 Not forgetting Twitter too. Just search for 'Nadia Fazlini' in Twitter searchbox and you can see what people have been tweeting about her.
There are some people who are daring enough to post the link of the scandal video in their tweets.
Now it'll be spread like wild fire. Thanks to the advancement of technology.
There are some racist remarks too and thanks to technology we can identify easily who are all these people. How I wish that there is no race, but I know God is fair and there's always a purpose in what he do and I believe in Him.
So back to the title of this post "Why Nadia Fazlini, Singapore Actress Sex Scandal, Will Be Different From RP Girl and NYP Tammy?"
Everyone have their own views about this. Abang Long too have his own view too. So allow me to answer that question.
Unlike RP Girl and Tammy, Nadia Fazlini is more famous. First of all Nadia was an actress with Suria. Honestly, if you ask me whether I remember Tammy's face, I will say no. I don't remember her face at all. So after awhile, it died down for Tammy unless these kind of things happen again.
So to RP Girl, yes you may be traumatized right now by that accident. Just fight on during this period of time. Sooner or later, everybody will be busy with their life, nobody will remember your face. Just take Tammy as an example. I don't remember her face at all.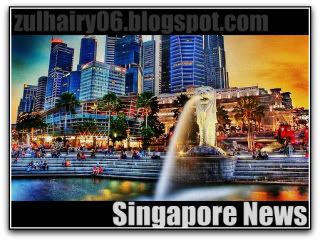 This ex Singapore MediaCorp actress will be having a hard time facing the society. Apart from being an ex actress, everyone have the perception that she's the "Girl-next-door type" through her face and her acting roles.
It's harder for her too because almost all the Malay society know her through her acting role with Suria. She can't walk on the street as how she used to because there are Malay Singaporeans out there walking on the street too.
Wait.
She can't even go to Geylang Serai! Oh no! Can you imagine her walking at Bazaar Geylang during Ramadan period?
To the relatives,
She needs all of you right now
during this period. Hope she will fight on!
Update #2
Guys, I've seen the number of people searching for Nadia Fazlini Sex Video is really beyond imagination. There are a number of you that e-mail me and request me to give you the link to the video.
I've to dissapoint you and I say I cannot do that. There are a few websites that have the link. It's not here. Abang Long is just giving my honest opinion about the situation.
I thank those people who made an effort to e-mail me but I cannot fulfill your requirements.
Thank you for your understanding.
Keep the comments coming!
Update #3 7th Feb 2010
Was anybody at home just now around 6.30pm to 7.00pm? Did you watched the Suria channel during that period of time?
For those who did, did you see somebody familiar? This time round with clothes on.
Yes, Nadia Fazlini was in Suria programme just now in 'Sedap'. 'Sedap' is a cooking show with veteran DJ, Asmah Laili.
Abang Long was at grandma's house when the show started. My aunties was saying "Hey! That's her!" They were careful though in choosing the words they are saying because my young cousins are around in the living room too.
One of my cousin ask my auntie.
Young Female Cousin
: Auntie, what's wrong with her?
Auntie
: Ask her lah. Auntie is so angry and digusted with her.
My young cousin still confused by my auntie's response.
As that was happening, I was thinking to myself this question. Maybe you can share with me your thoughts below.
Suria have been showing this programme, Sedap, for the past few weeks. It's not some programme that suddenly appear this week.
But the question that Abang Long want to ask you is this.
Was today's show with Nadia Fazlini was being planned way ahead or was it being switched at the last minute to create more hype or cause embarassment to her?
Think about it and share with me below. Tweet about this or share it with your Facebook friends to let them think about this question too.
Update #4 | 13th Feb 2010
I've posted a new post about Nadia Fazlini's reply on my comment box. Click on
this post
.